When people hear that you are taking off sailing many of them talk about how they would love to come and visit and then never do, that is a story that we often hear from other boats. For us that isn't so much the case. We usually have a pretty constant flow of guests that take us up on our offer to come experience the cruising life and live in a tropical country for a bit. I remember one point while we were moored in Miami we had guests non-stop for three months, with the exception of a one week break in the middle. We love having other people onboard with us, everyone from friends and family, from newbies to returnees, our boat is open to our guests. Over time we have compiled a little bit of a list that we let our future guests read over before their arrival so that they know what to expect from their cruising experience.
   When planning your trip we can work with you to figure out the WHEN or the WHERE of your flight destination, but it is very difficult for us to pin point a while in advance where and when we will be in a certain spot. We are reliant on the weather to move around, and we are very precautions being that we have had a horrible trip before pushing to sail on a schedule, and it leads to only one thing, danger. So expect that you will be booking your plane ticket pretty last minute, but it'll be worth it.
   When packing their bags, we ask that everyone uses a duffle bag or some other sort of soft bag that is easy to roll up and stow away. Those who have not followed this advice often ended up sleeping with their suitcase as a bed buddy. Our boat has enough space for you to have your own room, but we don't think you want to be taking up your precious living space with an empty hard case.
   Far from the glamorized idea of it, we are not out sailing every day. This boat is our home. We enjoy taking it from point A to point B, where it sits while we live on it, enjoying a new country. We usually spend extended amounts of time in one island or country experiencing the real thing. We are not taking our home out into the big blue ocean for weeks on end without seeing land and inviting you along for the trip. More so we are travelers that enjoy bringing our home along with us, by ocean way. We will however most likely take our boat out for at least one day trip while you are visiting so that you can experience sailing, or, if you are one of the lucky, or unfortunate (depending how you see it) ones that is joining us to do a passage or crossing from one spot to the next, then you will get to experience the sailing life of island hopping. We are nowhere close to doing ocean crossing yet, so you will be seeing land at least every couple of days.
   When you arrive, we are not at a dock. You will be arriving by plane, we will go and pick you up, drive to the dinghy dock, hop in our dinghy which will bring us out to our sailboat. We are usually moored or anchored out in a bay, it is very rare that you will find us at a dock, so do not expect to be able to hop on and off of the boat whenever you feel like it. There is a dinghy trip in between.
   When you get to our boat, we live on a "workaboard". We are nowhere close to having the means to owning a brand new mega yacht, and I think we would get bored with that if we did. Our boat we have poured much sweat into for the past two years and are only now getting around to making it look prettier. Much of the finishing touches have not been done yet. We do not have a proper floor, not every wall has been repainted, the steps need to be stained, etc. But wait until you see our back yard.
   You can compare living on a boat like ours to living in an RV. Many landlubbers can relate to this idea more than what it is really like on a sailboat. Living spaces are tight, more so when you have two small children running around owning the place. We have two sleeping areas, ours is in the back of the boat, and the guest one is in the front. Each has their own bathroom, shower is only in the back however. Between our two living spaces you will find the kitchen and dinning area, where there is also a table that can fold down into another queen bed if needed. There is not a whole lot of personal space, but that is the fun of it. It will be two weeks, or however long you vacation is, filled with our family, fun, and new experiences. You will not be a guest, you will become one of us, part of our family. Because of the tight space we do our best to clean up and return everything to its proper place or it will take only an hour and the boat will feel like it is overrun by everyone stuff, sprinkled with toys on top.
   Tied to the above topic, we have kids. Two of them. Little monkeys that run this boat. This is their boat and you will be visiting it. They will be extremely excited to see you and want to tell you about everything and anything. The baby may be a little standoffish, it's just her personality. Bedtime starts around 6pm for the baby and so does quieter time. Arias is in bed at 8pm, and then we are all yours. But they also wake up early, usually around 7ish and keeping them quiet in the morning is next to impossible. We are not asking that you get up with us, you just may want to bring some earplugs if you were hoping to sleep in.
   The places we are living are hot. Bring bathing suits, a couple of them at least. We live in and around the ocean all day long so do not bring anything too nice that might get wrecked by salty water. Bring one warm outfit in the freak event that cold weather blows through, but in general, shorts, swim suits, and very casual clothes. When we do not have guests we are usually walking around in our underwear, but we make an effort to at least wear shorts and tops when guests are about, depending on the guests. If you are staying long enough you will most likely experience the downward evolution of clothes as your time with us extends, from shorts and tops, to bathing suits, to underwear. Be ready.
   We live on 12volt energy, given to us from the sun (solar power). We own two iPads and a computer. Unless you feel extremely attached to your own electronic devices, you do not need to bring them. You are welcome to use ours. The more you bring, the more you clutter up your personal living space.
   The toilets. Usually we explain this once the guests have arrived, but we have had a few guests so freaked out by the lack of space and misunderstanding about our toilets, that they saved doing their business for when we went into town. Here is how ours work. We do not flush toilet paper down our toilets. You do your business and then place the paper in an airtight tin next to the toilet, or in a paper bag first and then into the tin, depending on the business. Then you flip the manual switch to the left to pump water into the toilet. Pump long enough that all you stuff is gone and then some more, think it has about two feet of hosing to clear before it gets to its end point. Once you have pumped enough water, flip the switch back to the right and pump the toilet dry, until there is no more water left in the bowl. And done.
   We do not have a water maker, so we watch our water consumption. Not to the point that we will restrict the amount that you drink, but more like we will not let you take half hour showers. If that is what you want feel free to do so but expect that you will also be making the next water run into town to replenish the boat. Not an easy job. It means lugging 5 gallon jugs full of water into the dinghy, lifting them on to our boat, and dumping them into our water tanks. And we usually do about 15 at a time. Get ready to sweat for your extended shower. If we are somewhere with beautiful water we usually spend most of the time in the ocean and then just rinse off on the boat to feel fresh.
   Expect this for sure. Before you get here we will use you as a pack mule. Not everything is easily accessible here and so when we have guests coming we usually get quite busy with our online shopping, shipping everything to your place so that you can bring it with you on your visit. It's like mini Christmas for us because we get to replenish on things that we have been wanting or needed. You can expect to receive anything from boat parts, to clothing, and every nicnac in between, and also a shopping list for non-shippable things like diapers and Nutella. We greatly appreciate this part of having guests come down as it is a huge help to us. And if you do not have enough space in your own bags for all of our things, just pay for the extra bag at the airport and we will cover the costs.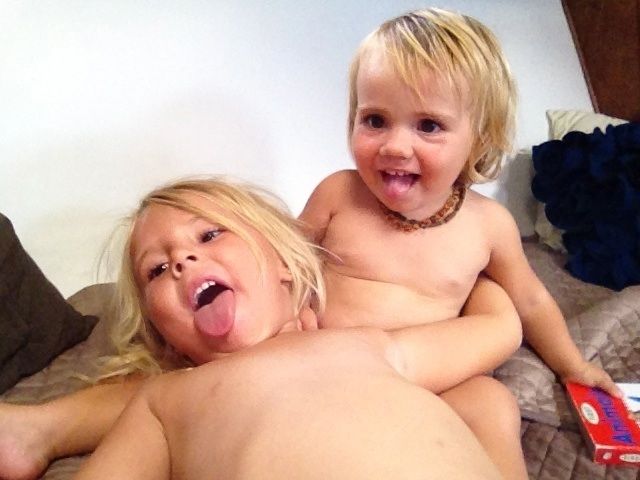 These will be your very busy hosts
This will be your room
This is the general living space